Description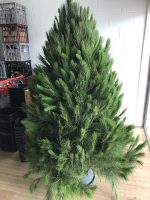 We are now taking pre orders for Christmas trees.
Last year a lot of people missed out or saw how good these trees were but already had a different arrangement.
The trees are incredibly perfect for the purpose. Low needle drop, fresh, aromatic and of good symmetry. 
The trees are grown on a family farm around Kumbia in Qld. We also get a lot of good early season stone fruit in this area. 
The trees are a specially selected strain of Pinus radiata (Monterey Pine), grown, pruned & nurtured for 3 years prior to harvesting.  
 We recommend trees last up to 3 weeks, if kept inside, away from windows, direct sunlight, hot breezes and kept in water.
A care instructions flyer, is included with each tree. 
 The 2019 price for a 5 to 6 foot Christmas tree is $110 gst included. 
Cinco stands are optional at an extra $44 gst included.
Please ensure you add a stand to your basket prior to checkout if you want one. Use the code  smile101 to receive $10 off if you order by 31 August.
Pick up will be at the Bellbowrie Plaza early December, yet to be confirmed. 
We have to place our order by 31 July. Our storage space is limited that means the numbers are limited. 
To pre order your tree place an order and we will be in touch via text message.