Description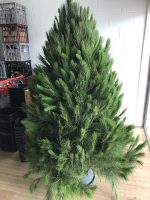 Reserve your 2019 real Christmas trees now. We have limited numbers available.
The trees are incredibly perfect for the purpose. Low needle drop, fresh, aromatic and of good symmetry. 
The Real Christmas trees will come from the Kingaroy area this year.
The trees are a specially selected strain of Pinus radiata (Monterey Pine), grown, pruned & nurtured for 3 years prior to harvesting.  
We recommend trees last up to 3 weeks, if kept inside, away from windows, direct sunlight, hot breezes and kept in water.
A care instructions flyer, is included with each tree. 
 The 2019 price for a 5 to 6 foot Christmas tree is $110 gst included. 
Cinco stands are optional at an extra $44 gst included.
Pick up will be at the Bellbowrie Plaza on December 4th, 5th Or  6th December, at this stage the 4th December afternoon pick up.
To pre order your tree place an order and we will be in touch via text message.